Wildlife-Enforcement Section's
Protect Our Fish and Wildlife Resources…
Report Illegal Activities
All fish and Wildlife belong to the Navajo Nation. Let's put the poacher out of business! Call...
(928) 871-7062
ALL INFORMATION YOU PROVIDE WILL REMAIN CONFIDENTIAL AND
YOU MAY REMAIN ANONYMOUS
WHAT IS POACHING?
Poaching is a crime. Poaching is the illegal take of wildlife.
It is important for you to know that:
All fish and wildlife are the property of the Navajo Nation as a whole.
Hunting on the Navajo Nation is a privilege.
The Navajo Nation reserves the right to refuse hunting privileges to anyone.
The following enforce Navajo Nation Fish & Wildlife Regulations and Laws:
Wildlife Conservation Officers
Navajo Nation Rangers
Forestry Law Enforcement Officers
Navajo Nation Department of Law Enforcement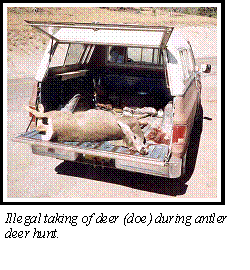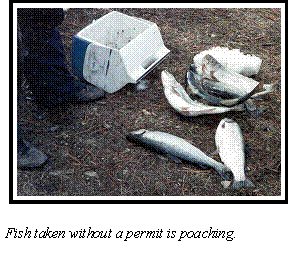 Unfortunately, poaching practices do occur on the Navajo Nation, but you can make a difference! Here's how…
REPORT ALL ILLEGAL ACTIVITIES
TO THE DEPARTMENT OF FISH AND WILDLIFE !
Who is the poacher? Any person that does not respect the Navajo Nation fish and wildlife resources.
The Navajo Nation Department of Fish and Wildlife may bring a civil action against any person(s) who unlawfully
poaches wildlife.
The Department will seek a court order for the poacher to pay the
following sums of money as restitution:
Each Bighorn Sheep $750
Each Elk $600
Each Mountain Lion $550
Each Black Bear $500
Each Eagle $500
Each Deer $400
Each Antelope $350
Each Raptor $200
Each Waterfowl/Upland Game Bird $100
Each Game Fish/Small Game $50
All funds recovered are deposited into the Wildlife Theft Prevention Fund and are used to operate the Operation
Game Thief Program.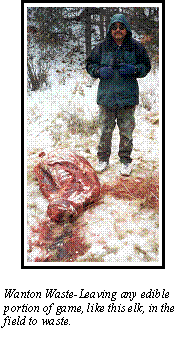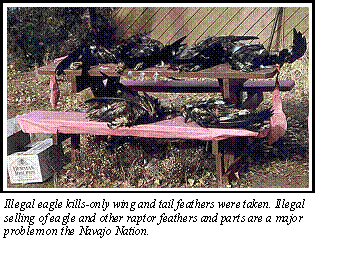 If the information you give leads to an arrest or citation of any person, you can receive an award from $50
to $500.00. These cash awards will be paid from the Wildlife Theft Prevention Fund. Employees of the
Department of Fish and Wildlife or their immediate families are not eligible for reward payments.
* REWARDS *
$500
Bighorn Sheep
$300 Mule Deer
$300

Antelope
$300

Elk
$300

Bald Eagle
$300 Golden Eagle
$200

Threatened & Endangered Species
$200

Raptors
$150 Merriam's Turkey
$150

Black Bear
$150

Mountain Lion
$100

Waterfowl
$100

Upland Game Birds
$50
Game Fish & Other Wildlife
Rewards will be given when information leads to an arrest or citation of any person who unlawfully poaches wildlife by
the following:
Taking
Transporting
Wounding
Selling
Killing
Wanton waste
Possessing
Have in possession or parts thereof
Taking wildlife during closed seasons
H ere are some helpful hints to detect poachers:
Be alert to all suspicious activities.

Does the hunter/angler appear to act nervous?

Do they hide objects in the brush?

Do they attempt to avoid big game check stations?

Did you see the use of spot lighting with shots heard afterwards?

Did you witness the poaching incident?
Download and print this form if you have information to provide on
poachers for Operation Game Thief
ALL INFORMATION YOU PROVIDE WILL REMAIN CONFIDENTIAL AND YOU MAY REMAIN ANONYMOUS